A multi-disciplinary electronics and firmware engineering consultancy
GESTURE CONTROL TECHNOLOGY
LED Desklamp

An industrial design agency had a vision for a new-concept, energy efficient desk lamp, which would be battery-powered and use a single high-brightness LED. 
Combining substance and style, the On/Off and brightness functions would be operated by gesture control technology, meaning no physical interaction was required. The design showcased the electronics, with the metal printed circuit board (MPCB) forming the chassis of the desk lamp, so developing the prototypes required close collaboration during the design and production processes.
This elegant lamp comprises a single piece of aluminium MPCB that is folded into shape after the electronic components have been soldered onto it. The lamp base is a rechargeable battery unit with a USB port and a battery life of 3+ hours. And while the design can accommodate extra lights and features, the prototypes were intended as proof of concept and production, and to ensure legislative and regulatory standards for international sales were met. 
Our first task was to make certain the layout of the circuits looked aesthetically pleasing while accommodating the different stresses of the lamp's stem being bent into shape during manufacture. Various bend-angles were tested to ensure the integrity of the circuits and to make sure the lamp would be balanced and stable, even if extra LED lights or different control functions were added later.
Working alongside the designer and a small UK manufacturer which produced the prototypes, we were able to adjust the circuitry design to produce a robust and practical lamp that meets all the required safety and quality standards.
The lamp has yet to be put into production but in some ways it was ahead of its time, not just in terms of its 'industrial' aesthetic, but also its energy-efficiency and versatility.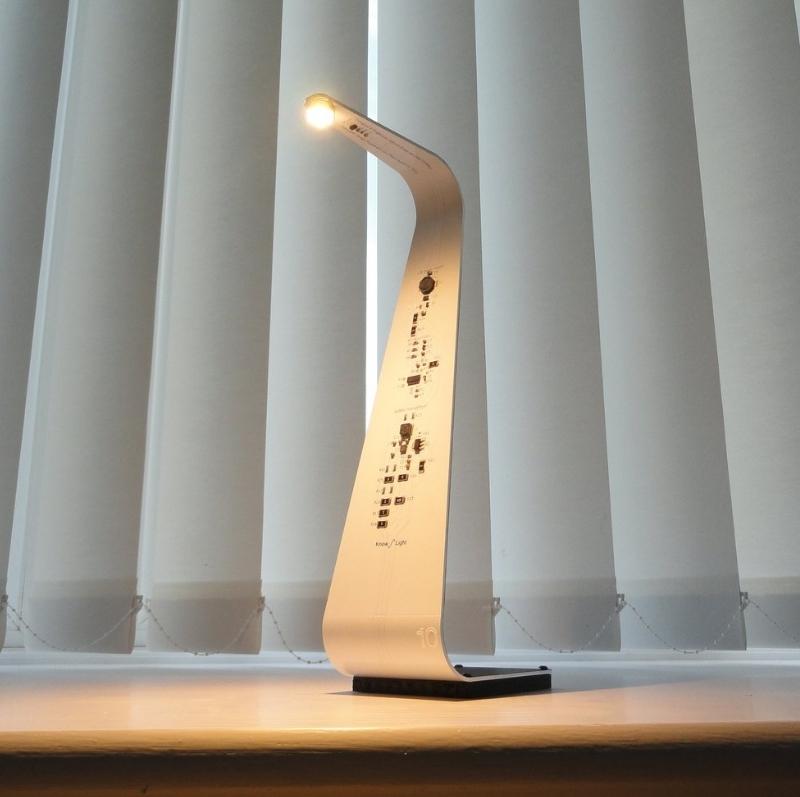 Metal printed circuit board
Versatile design will accommodate extra lamps and different control functions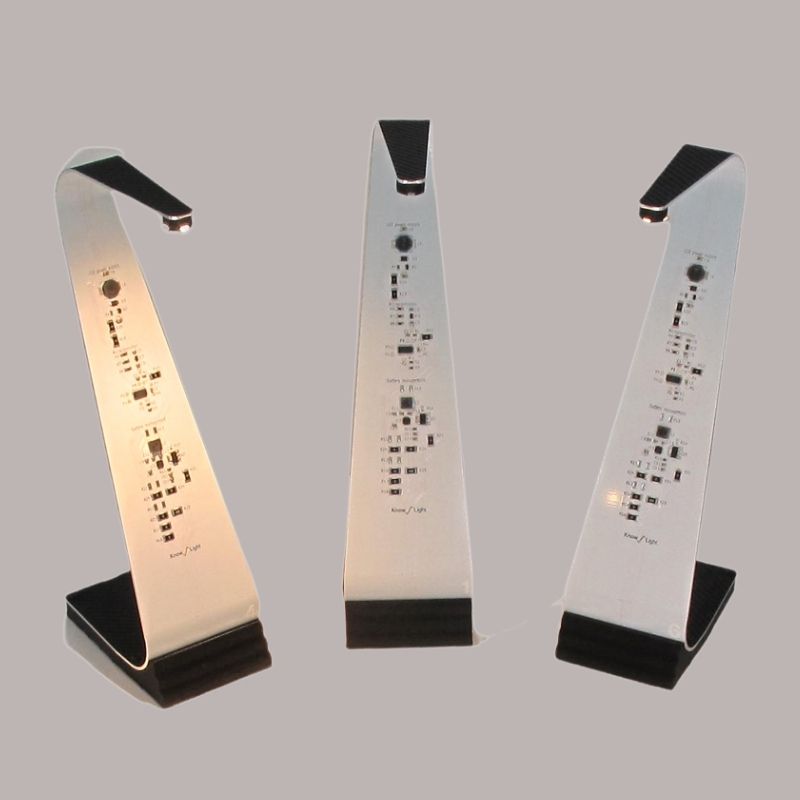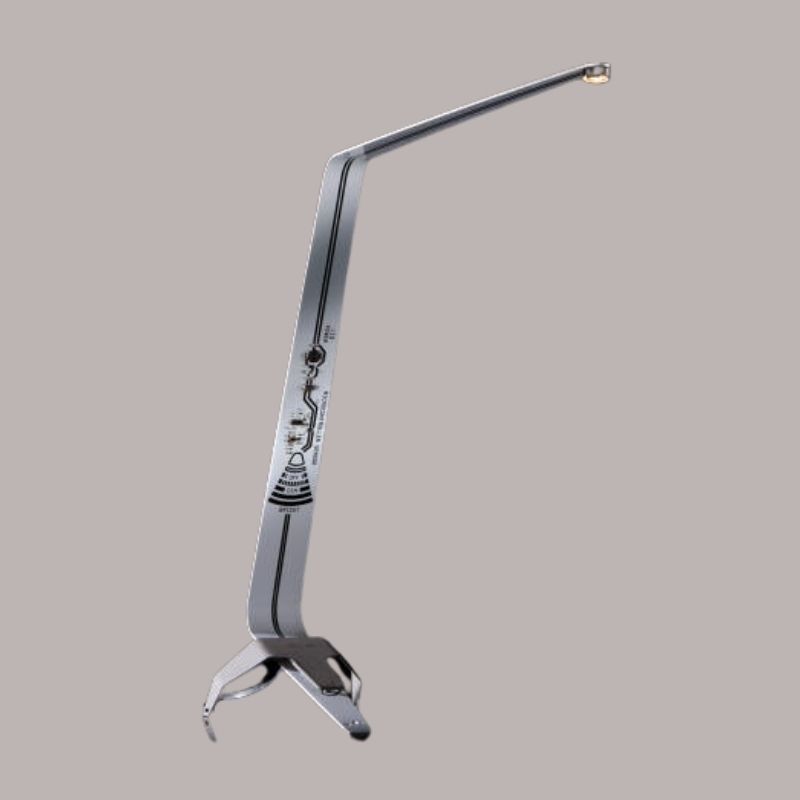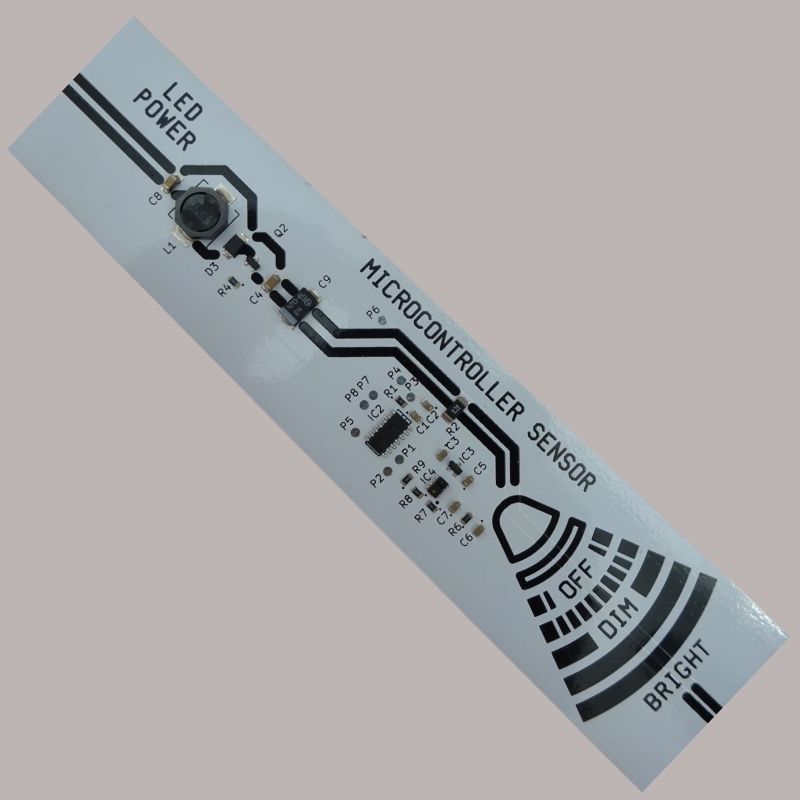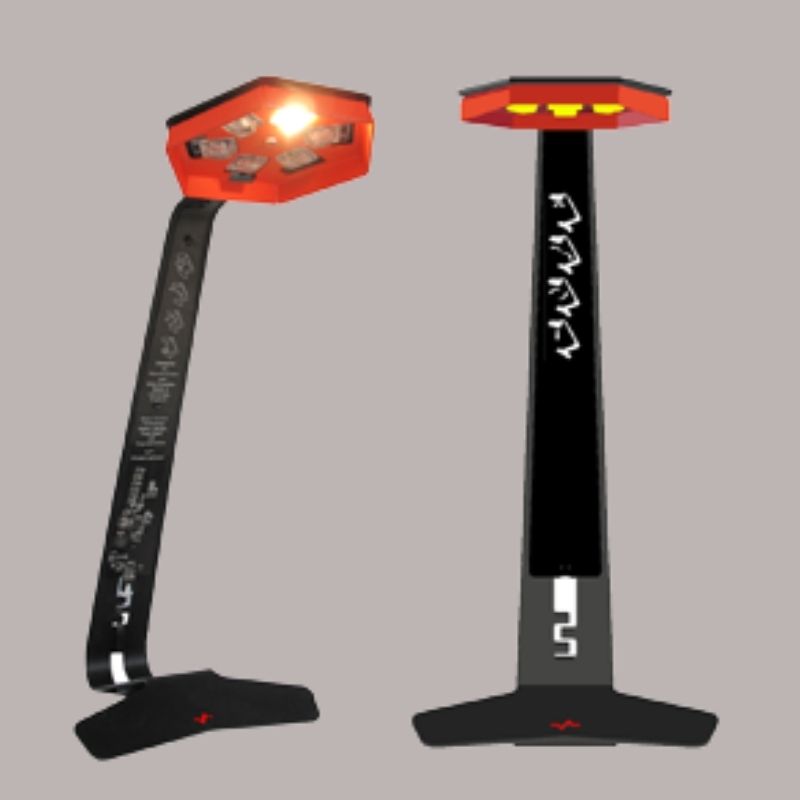 Gesture Controls
While the prototype lamp operates with fairly simple controls for On/Off and brightness functions, the MCPB can be expanded to add more sophisticated features such as extra lights and directional illumination.
Production values
A key objective of the design project was to ensure standard manufacturing processes were used to ensure cost-efficient production.
Blending technology
This cutting-edge design combines proven technology elements in new ways, yet the lamp is straightforward to build and has the capacity to accommodate up to five LEDs and a longer-life battery base.

Red Horizon Services Limited
Registered address:
The Elms, Lutton, Peterborough, PE8 5ND
Telephone:    + 44 7720 555 785
Email:  chris@red-horizon.co.uk
Office Hours:
Mon to Fri 08.30 to 18.00